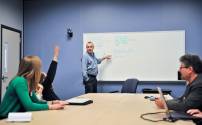 Assessing the effectiveness and cost efficiency for IT infrastructure, organization of competitive procurement.
Working out Information Technologies project and its implementation, the development of communication networks and production automation - the selection of optimal solutions , perform feasibility studies according to technical specifications , support and implementation of the project.
Information security management - development and implementation of information security policies, control and protection of information.
Training of customer's staff in the field of Information Technology.